Car Rental Seychelles Airport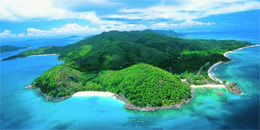 Despite the Seychelles being a small nation, getting around without a car may take a while to fully explore it. Although it is possible to travel by taxi or bus, renting a car is by far the most practical way to see everything. When exploring the islands, Kreol Service's vehicle rental gives you the most flexibility and price.
A number of airports in the Middle East, Africa, Sri Lanka, and Germany are serviced by Seychelles Airport, which is close to Victoria. While it is the only international entry point to the Seychelles, it also serves as a hub for domestic flights to other Seychelles islands. The capital and largest port of the islands is Victoria. 
As soon as you arrive, we will take care of your vehicle rental needs. Choose between smaller vehicles like the Kia Picanto and bigger ones like the Hyundai Creta, which has room for up to five passengers. Both automatic transmissions and air conditioning are standard in every vehicle. For added comfort, Kreol Services also offers a variety of huge 4×4 jeeps with greater storage room and a smoother ride, including the Kia Soul or Daihatsu Terios. Your ideal hire car is waiting for you on the tarmac as soon as you arrive at the airport in the Seychelles.
Outstanding client service, cleanliness, and vehicle condition are trademarks of Kreol Services. Our exceptional service constantly leaves customers happy since we deliver and take up our automobiles on time.
Our standard offering includes helpful assistance, brand-new cars, and affordable costs. At Seychelles International Airport, Kreol Cars offers the ideal rental car for you, whether you need a car for business or entertainment. 
In order to provide you peace of mind regarding transportation while you are in Mahe, Kreol Services offers car rental that connects you with the services of a reputable car rental at Seychelles Airport. With us, you can calculate costs and reserve the kind of car you want, whether it's an SUV, sedan, convertible, or something else entirely. Choose from optional accessories that can make your island driving even easier, such as car seats, roadside assistance and unlimited mileage.
Kreol Services has dedicated parking spaces at the airport which will be shown to you on the day of rental. Our team will discuss the airport drop-off procedure with you at the rental desk on the day of collection. If you would like to discuss the procedure before your arrival, our team can be reached at any time via email: info@kreolcars-seychelles.com or phone / WhatsApp on +248 261 8568.