Victoria, Seychelles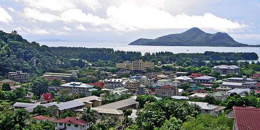 Victoria is the largest city and capital of Seychelles. It is located on Mahe Island. Victoria offers a fantastic opportunity for tourists to experience the community of Seychelles. With Kreol Services, you can enjoy safe and reputable car hire to meet all your travelling needs while you are visiting Victoria or other cities of the Seychelles. Our Car Rental Services comes with a third-party insurance, a free second driver, and unlimited mileage. We will deliver your car rental in Victoria to the airport, jetty, or hotel of your choice.
Car Hire is a safe and affordable option to travel during your holiday in Seychelles. You will certainly want to visit the hub of Victoria and see all the other excitement that Mahe has to offer. At Kreol Services, we work tirelessly to make your Car Rental experience in the Seychelles absolutely exceptional. We understand the worries that come with planning a holiday in a different country. With Car Hire, you are able to explore the fantastic islands and cities such as Victoria at your pace and at leisure. Car Rental also works out to be a more affordable option than consistently relying on taxis or other forms of public transport.
We offer Car Rental in Mahe and Car Rental in Praslin which will make your exploration of these islands easy and affordable. You can visit the city of Victoria or find many other activities to do, which we happily provide you with information on. At Kreol Services, we work tirelessly to meet all your needs and provide a fleet of vehicles to choose from that will suit any family or budget.
Use your car rental with Kreol Services to explore the city of Victoria at leisure and create fantastic memories with your loved ones.