Car Rental Praslin in Seychelles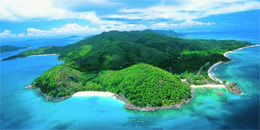 Moving around on Praslin can be difficult if you don't have a car, despite the island being just a quarter of the size of Mahe. Renting a car allows you the freedom to explore this sliver of paradise at your leisure, from the fine white beaches of Anse Lazio in the north to the thick tropical forest of Valle de Mai on the island's center.
Kreol Services, which is locally owned, provides great service and guarantees comfort and convenience with a personal touch. Whether you arrive at the airport, ferry dock or hotel, our representatives will meet you there.
Our car rental service in Praslin, Seychelles is the perfect option for touring the island. Choose from small cars like the Kia Picanto to somewhat bigger cars like the Hyundai Creta, which can accommodate up to five passengers. All vehicles have air conditioning and most feature an automatic transmission. We at Kreol Services also offer a selection of roomy 4×4 jeeps with more baggage capacity and a smoother ride, such as the Kia Soul or Daihatsu Terios, for even more comfort.
For years, tourists from all over the world have had amazing vacations thanks to our car rental services in Praslin, Seychelles. Our convenient and affordable rentals, incredibly comfortable cars and flexible approach will ease your concerns and allow you to enjoy your holiday. Since we have been providing car rentals in Praslin, Seychelles, for many years, our service is always impeccable.
Kreol Services is the finest choice if you're looking to travel while on holiday in Praslin, Seychelles. Our collection of rental cars, which also promises exceptional support, caters to every taste and budget. If you have any questions or would like more details on driving in the Seychelles, don't hesitate to contact us.