Car Hire in Mahe Seychelles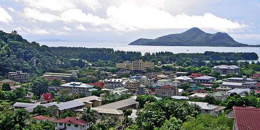 To experience all of Mahé's charms in their entirety, you need a personal car. It is well worth spending at least a day visiting this stunning island, especially the far southern parts.
Your holiday will be considerably easier if you rent a car when you are in Mahe. You must see it to believe it when it comes to the breathtaking landscape along the north coast or the stunning bays in the west. The entire island, including stops at several Seychelles beaches and everything else that strikes your interest, may be seen in a few hours. If you choose a self-catering or guest home option for your accommodation in the Seychelles, driving is by far the simplest method to get groceries.
Finding the finest car hire in Mahe, Seychelles, is a simple and quick process at Kreol Services. To start your adventure, first input the location where you want to pick up the car, then select the dates for both pick-up and drop-off, and finally the vehicle. Additionally, you may filter the search results to further tailor your search.
Choose the model that best suits you based on your travel plans from our wide selection of cars for hire in Mahe, which includes premium, economy, and small cars. You may select from smaller vehicles like the Kia Picanto for shorter journeys. Otherwise, we offer larger family vehicles like the Kia Soul or Daihatsu Terios if you want more space or are planning a longer journey.
You may go to the well-known tourist destinations of Seychelles with the help of Kreol Car Services' trustworthy and affordable car hire in Mahe. Whatever you require, we can help. Please get in touch with us via email, Whatsapp, or live chat if you need more details.