Praslin in Seychelles Car Rental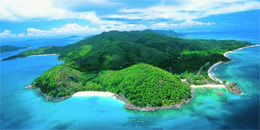 Praslin is an unspoiled island paradise that is waiting to be discovered. Praslin, the second-largest island in the Seychelles, is simple to get around on and a treat to explore. You can make the most of this tranquil, laid-back location's breathtaking countryside and stunning beaches by renting a car in Praslin. Go shopping and eat some delectable Creole cuisine in the charming village of Baie Sainte Anne, or take a day excursion into the island's interior forest. For those who enjoy more active hobbies, the Constance Lemuria Resort's 18-hole golf course on the island will be a pleasant diversion. Those who want to rest can take a short drive to Anse Lazio beach and unwind on its picture-perfect white sand.
The easiest way to obtain Praslin car rentals is through Kreol Services! Just let us know when you'll be travelling, and we'll show you the vehicles that are available—and, more importantly, at the most affordable rates.
Due to our excellent customer service, cleanliness, and vehicle upkeep, Kreol Services has a strong reputation. Customers consistently express satisfaction with our excellent service because we always deliver and pick up our vehicles at the appointed times.
Kreol Services is the greatest option for travel while on holiday in Praslin,  Seychelles. With excellent service, we provide a wide selection of rental cars to meet every preference and financial situation. If you have any questions or would want additional details on driving in the Seychelles, please get in contact with us.