Praslin Seychelles Car Hire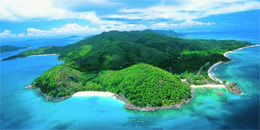 Customers from all over the world have enjoyed fantastic vacations owing to our Praslin Seychelles car hire services for many years. Because of our simple and reasonable rentals, really comfortable cars, and accommodating attitude, your stress will be relieved and you will be in the mood for a vacation. We give outstanding service as a consequence of our years of experience, all for your pleasure.
Despite being one-fourth the size of Mahe, getting about on Praslin without a car may be difficult. When you hire a car in Praslin, you may go at your leisure throughout this slice of heaven, from the beautiful white sands of Anse Lazio in the north to the lush tropical forest of Valle de Mai in the island's center.
Although hiring a car in Praslin might be stressful, we can make it much easier with our large range of high-quality vehicles and knowledgeable personnel. Our dedicated team of professionals will go above and beyond to acquire the best available pricing for the vehicle you require, and they will walk you through the entire process to assure your satisfaction before you depart. The Seychelles are filled with spectacular natural splendour.
Kreol Services is conveniently situated and works with trustworthy vehicle rental businesses in Praslin to offer you with the finest service possible so that you can enjoy your trip. You may travel the Seychelles islands whenever you like with our fleet of vehicles. Kreol Services is committed to providing you with services regardless of your financial situation.