Morne Seychellois National Park, Mahe Seychelles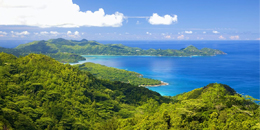 The Morne Seychellois National Park is located on the island of Mahé – well known for the lush tropical jungles, tall mountains and of course the breathtaking turquoise ocean. This is truly a paradise island.
The lovely Morne Seychellois National Park dominates about 20% of the island of Mahé. Containing a wide variety of habitats, this park is virtually deserted and can only be accessible by walking trails; the trailheads are mostly accessible by road. When visiting the island, keep in mind that Kreol Car Hire offers a wide range of vehicles available to rent and provides you with a stylish and safe form of transportation for the duration of your stay in Seychelles.
The park is home to some exquisite hiking trails. Trails are suited for both fitness junkies and casual hikers. Professional hikers should consider taking a tour to the top of the Morne Seychellois – the park's highest mountain consisting of 905-metres. To allow all visitors to explore the vast More Seychellois National Park, there are a number of official existing trails. These trails vary in length, physical difficulty, views and fascinating ecology.
Those that are keen on exploring this island should consider setting aside a day to tackle this journey. The Mare aux Cochons is a freshwater marsh, which is fed by a small mountain river – leading up to astonishing picnic spots for you to indulge in the peace that this island has to offer.
The ever so impressive coastline of Mahé is undoubtedly the island's main attraction. This paradise offers a range of activities to take part in on your adventure but also allows you and your friends or family members to quite literally sit back, relax and enjoy the calming atmosphere. Considering this is the closest thing to a tropical paradise.