Anse Lazio Beach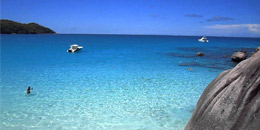 Considered one of the most exceptional beaches in Seychelles, Anse Lazio Beach in Praslin is a seaside paradise of white sand, azure blue Indian Ocean waters, swaying palm trees and unique granite formations. Arriving by rental car is an easy way to enjoy a day at this beach, as the bus stop is a little distance away and not all taxis venture this way. This picture perfect beach appeals to one and all, with a safe designated swimming area and crystal clear waters that are ideal for snorkelling and other water sports.
Discover Anse Lazio Beach as an entire day outing and unforgettable highlight to your Tropical Island vacation. Drive your Praslin car rental through early in the morning, enjoy the sunshine and relaxation of this coastal escape and then indulge in a delicious lunch at one of the restaurants close by. Many consider Anse Lazio to be Praslin's best beach, and definitely a must see for anyone visiting Seychelles. At Kreol Cars, we pride ourselves on offering high quality and affordable car rentals in Seychelles, on the islands of both Mahé and Praslin. For our valued clients, this means choosing from the cars that are on our fleet and finding out for themselves the difference between a car rental vs taxi service in Seychelles.
Quieter early in the morning and then livening up later in the day, Anse Lazio Beach will bring to life all the visions of a dreamlike tropical paradise. Take the opportunity to visit Anse Lazio Beach by driving your own Praslin car rental, which provides you with the freedom to stay as long as you want.