Baie Lazare, Mahe Seychelles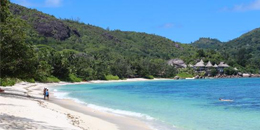 From astonishing turquoise waters that meet white sandy beaches, surrounded by palm trees and greenery – Baie Lazare is truly a hidden gem on the island of Seychelles. Granting every visitor with the feeling of serenity with the first step onto this tropical paradise.
Baie Lazare was named after the France adventurer Lazare Picault, who discovered Mahé while investigating the whole of Seychelles. It was presumed that Lazare landed at the bay (Baie) of Anse Gaulette. This resort is also known for some secretes and is said that some locals have even found pirate treasures.
Start your holiday off on the right note and dive straight into the adventures, but do not forget to organize yourself and fellow travellers with a car rental. For you not to miss out on all the adventures that this island has to offer.
Take a stroll in the Victoria Botanical Gardens, which was established in 1901. The main objective of the gardens is to contribute to the national efforts in environmental education, plant conservation and eco-tourism. The Kempinski Spa has a lot more to offer than just relaxing treatments. By offering a wide range of water sports, world-class diving opportunities, luxurious dining experiences and an Olympic-length swimming pool. And no, we are not talking about the ocean. You will always find something to keep you busy during your stay at the Baie Lazare Island in Mahé.
At Kreol Car Hire we provide our valued clients with affordable and reliable transportation during their stay on our beautiful island. If you are on the lookout for a reliable car rental, please contact our team for more information.