Vallee De Mai National Park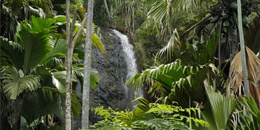 The enchanting Vallee de Mai National Park and Nature Reserve is a world heritage site on the island of Praslin in Seychelles. It's distinctive and lush natural beauty consists of a 1.5 hectare palm forest which has hardly changed across many passing centuries, and a flagship species of the endemic Coco de mer monocot tree, which has the largest seed of any other plant on the planet. This unique park is also home to 5 more endemic palms and many endemic species of fauna.
With seemingly endless beauty, there is little wonder as to why many visiting Seychelles plan a visit to the Vallee de Mai National Park. Hire a car in Praslin and make every moment of your stay here memorable and stress-free. Our Kreol Services team are here to make your holiday more enjoyable, and offer a wide variety of rental cars which allow for a free additional driver. By renting a car in Seychelles, you can journey from one attraction to the next without hesitation or worry. Be your own tour guide in Praslin, from Vallee de Mai's wildlife, natural elements and forest hiking trails to some of the most stunning beaches in Praslin. Referred to as the green heart of Praslin Island or Garden of Eden, Vallee de Mai has inspired wonder in many people over the years and many legends exist around the palm trees and park.
There are a few ways to get to Vallee de Mai National Park, depending on your preferences. One of the most popular ways is by renting a car in Praslin, allowing you the freedom to embark on numerous adventures without the cost of an expensive taxi. Get in touch with our Kreol Cars team today for assistance with your Seychelles car rental.