Carana Beach Hotel Car Hire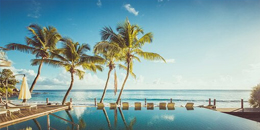 To truly immerse yourself in the wonders of Seychelles, having your own personal car is a must. The island's most captivating treasures are best explored with the freedom of a car, allowing for day-long adventures and unforgettable experiences. Opting to hire a car during your Seychelles holiday can significantly simplify your journey, ensuring you don't miss out on the island's breathtaking landscapes.
Located on the northeasternmost point of Seychelles, Carana Beach Hotel offers a luxurious retreat with an exquisite outdoor pool that provides year-round vistas of the azure waters. The multilingual, expertly trained staff at Carana Beach Hotel provides you with a warm welcome and personalized service, ensuring a memorable stay. At Kreol Cars, we pride ourselves on reliability and convenience, and we're here to make your Seychelles experience exceptional.
Kreol Cars offers a diverse range of rental choices to suit your specific needs, whether you require a car for a single day or an extended stay. Enjoy the flexibility to explore Seychelles' natural beauty and renowned attractions at your own pace, crafting your own unique adventures.
Don't miss the opportunity to uncover the magic of Seychelles. Contact Kreol Car Hire today to reserve a dependable and enjoyable vehicle. With Kreol Cars as your trusted travel companion, you'll create unforgettable memories while admiring the Seychelles' magnificent scenery and enticing attractions.
Begin your journey through paradise with the convenience of Kreol Car Hire at Carana Beach Hotel. Our friendly Kreol Services team can arrange for your rental car to be delivered to the Carana Beach Hotel as part of our car hire service, and when your adventure concludes, they'll seamlessly pick up the vehicle. Secure your car reservation today and set off on your stylish adventure.