Coco De Mer & Black Parrot Hotel Car Rental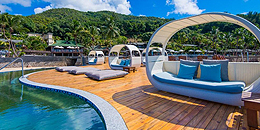 To truly appreciate all of Seychelles' attractions, having your own personal car is essential, especially when it comes to exploring the captivating far southern regions of this magnificent island. Renting a car during your Seychelles visit will significantly streamline your journey. Whether you're captivated by the breathtaking vistas along the north coast or enchanted by the picturesque bays in the west, experiencing it firsthand is a must to fully grasp its beauty.
The hotel blends contemporary design with genuine regional charm while being tucked away in a lush tropical forest and embraced by the calm waters of the Indian Ocean. The hotel gets its inspiration from the uncommon and peculiar Coco de Mer palm tree, which can be found on the southwest coast of Praslin Island, inside the embrace of more than 80 hectares of natural beauty. You may take in breathtaking views of the nearby islands, lush mountainsides, and magnificent sunsets from this location.
Kreol Services is quite proud of its dependability and accessibility. Please don't hesitate to get in touch with us immediately if you have any additional questions about the vehicle rentals available at Coco de Mer Hotel during your stay.
Seychelles boasts an array of awe-inspiring landscapes, and this is particularly true when staying at the Coco de Mer Hotel. To guarantee an exceptional Coco de Mer Hotel car rental service that enhances your vacation experience, we are deeply rooted in the local scene, and with our diverse range of vehicles, you have the flexibility to explore the Seychelles islands at your own pace. At Kreol Car Rental, your satisfaction is our top priority, and we are dedicated to delivering outstanding experiences, no matter your budget constraints.