Eden Island, Mahé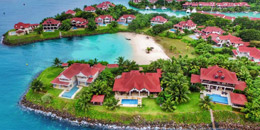 As one of the Seychelles top attractions, Eden Island displays undeniable and lush splendour and beckons to travellers during their stay. Forming part of the captivating Mahé Port Islands of Seychelles, this utopia was built on a reclaimed coral reef and despite its natural beauty, is in fact an artificial island, created in the early 2000s and continuing to capture the hearts of tourists.
One of the best parts of having a rental car in Mahé is that exploring becomes so much easier. There's no need to arrange taxis at the last minute or worry about what time you'll be returning to your accommodation. At Kreol Services, we provide high quality car rentals in Seychelles that won't break the bank. While making memories with those you love, enjoy the very best assets of Eden Island in your own time, knowing that your rental car is there to get you to and from any chosen attraction. With various beaches and protected bays and a selection of eateries and attractions, Eden Island is very much a day and night destination, changing from tropical daytime wonder to dazzling evening entertainment setting. Expanding across 56 hectares of dreamy shorelines and turquoise ocean waters, every moment spent at Eden Island can be truly special.
Whether you're on a romantic getaway or a family break, your Mahé car rental offers a reliable and easy way to enjoy your experiences fully. Our team make every effort to offer you a 24/7 service, and even provide free collection and delivery of your rented car as a convenient extra. Get in touch with to find out more.