Car Rental Mahé, Seychelles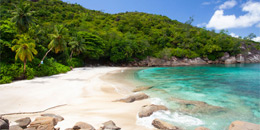 As the largest island in the exquisite Seychelles Archipelago, Mahe has no shortage of attractions to discover and natural beauty to adore. Visitors seeking reliable and inexpensive Car Rentals in Mahe can count on Kreol Cars for efficient solutions. Situated locally and working with hand-selected and reputable car rental companies, our service delivery and quality fleet of cars allow island visitors to discover the Seychelles Island of Mahe comfortably, at their own pace.
By renting a car in Mahe, visitors are able to appreciate the abundant beauty and exciting activities afforded to them during their stay. From dense rainforests to postcard perfect white beaches and no shortage of restaurants, tours and water sports, this adventure packed holiday destination will delight guests. At Kreol Cars, we ensure convenience and simplicity through our car rental in Mahe, meeting with visitors to drop-off and collect their rental car at their preferred locations. Our selection of cars to rent range from small to large, for couples vacationing together or larger groups of family and friends. Anyone with a valid drivers licence in their country of residence can book a Car Rental in Mahe through Kreol Cars.
At Kreol Cars, we are committed to providing a high-quality and seamless Mahe car hire solution to island guests, and also offer car rentals in Seychelles and car rentals in Praslin. Make every moment of your time in Mahe truly memorable, and enjoy the numerous attractions of this incredible location without worrying about transport or getting from one point to the next.