Le Duc Hotel Car Hire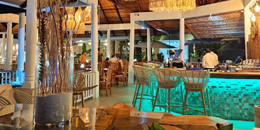 Every traveler should include Seychelles in their itinerary, as it is a breathtaking destination. This country offers an abundance of opportunities for an exquisite and luxurious getaway, featuring the most captivating islands and the most picturesque beaches. To enhance your vacation's convenience, Kreol Services offers Seychelles Car Hire. Opting for a rental car in Seychelles is not only more economical than relying on taxis but also grants you the freedom to explore the islands at your own leisurely pace.
At Kreol Services, we are dedicated to providing our guests with a convenient and time-efficient Seychelles car rental solution. We offer our customers an extensive array of pick-up and drop-off locations in both Mahé and Praslin, and we can deliver your vehicle to your preferred location, be it the airport, hotel, or jetty of your choosing. When it comes to car rental for Le Duc Hotel, Kreol Services is your top choice!
Located in an unparalleled location and boasting top-tier facilities and amenities, it's no surprise that Le Duc de Praslin is often hailed as the 'Jewel of Cote D'Or.' This remarkable resort graces the pristine Cote D'Or beach in Seychelles, offering an idyllic setting. Imagine the turquoise sea gently caressing the fine white sands of Cote D'Or beach, which becomes your daily playground, just a few steps from your opulent sanctuary surrounded by lush tropical gardens.
Le Duc de Praslin transforms your dream holiday into a reality with its extensive range of luxurious accommodations and exceptional dining options. Contact Kreol Services today regarding car hire services to Le Duc de Hotel during your next visit to Seychelles. 
Seychelles offers an abundance of stunning landscapes to savor, and we are deeply rooted in the local scene, collaborating with reliable car rental companies to ensure that we deliver top-notch service for your vacation pleasure. With our diverse fleet of vehicles, you can explore the Seychelles islands at your own pace. At Seychelles Car Hire, your needs are our utmost priority, and we are committed to providing you with exceptional experiences, regardless of your budget constraints.