Le Duc Hotel Car Rental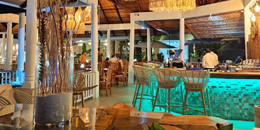 Seychelles stands out as an extraordinary tropical island getaway, ensuring that your visit is a tranquil journey filled with indelible moments. At Kreol Services, we strive to offer our guests a convenient and efficient car rental solution for Seychelles. In addition to offering a diverse range of pick-up and drop-off spots on both Mahé and Praslin, we are delighted to deliver your vehicle directly to your preferred hotel.
It comes as no surprise that Le Duc de Praslin has earned its nickname as the 'Gem of Cote D'Or,' thanks to its ethereal location and top-notch amenities. Situated on Praslin Island in the Seychelles, just a stone's throw from the stunning Cote D'Or coastline, this magnificent resort boasts the azure sea gently embracing the pristine white sands of Cote D'Or beach. When it comes to fulfilling your car, rental needs for the Le Duc Hotel, look no further than Kreol Services, your ideal choice.
Exploring Praslin offers a wealth of experiences and knowledge, and opting for car rental empowers you to craft your vacation schedule on your own terms. No need to fret about unreliable transport or costly taxis. While adjusting to Seychelles' sensible road regulations and speed limits might take a bit of time, renting a car through Kreol Cars in Seychelles is a straightforward and swift process, provided you possess a valid driver's license from your home country. Plus, we extend the courtesy of allowing a second driver at no extra cost, ensuring that the driving responsibilities are shared and allowing everyone to fully relish their journey.

Apart from offering car rental services for Le Duc Hotel as part of our Seychelles Car Rental service, our friendly Kreol Services team is more than willing to collect your rental vehicle once your use is complete. We go the extra mile by including unlimited mileage, 24/7 roadside assistance, and comprehensive insurance coverage for all our vehicles. No matter the time of year, your Seychelles vacation promises a plethora of delights and numerous chances to forge enduring memories.