Paradise Sun Hotel Car Hire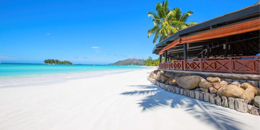 As you soak in the tranquil ambiance of Paradise Sun Hotel, an exquisite beachside sanctuary nestled along Praslin's unspoiled coastline in Seychelles, the allure of the island's natural wonders and cultural riches may inspire your exploration. Contact Kreol Cars for top car hire services to ensure your island excursions are convenient and comfortable.
Beyond the tranquil shores of Paradise Sun, Seychelles unveils a trove of undiscovered cultural treasures and hidden gems waiting to be explored. Paradise Sun Hotel stands as one of Seychelles' premier resorts, thoughtfully equipped with a range of amenities designed to ensure visitors enjoy a comfortable and convenient stay. 
At Kreol Services, our dedicated team of multilingual, expertly trained staff extends a warm welcome and personalized service to enhance your car hiring experience. Our commitment to reliability and convenience shines through in every aspect of our car hiring services. Feel free to reach out today for comprehensive information on our car hire service options during your stay.
Our Kreol Car Hire services in Praslin, Seychelles, are an excellent way to explore the island during your stay. Choose between smaller vehicles like the Kia Picanto and bigger ones like the Hyundai Creta, which has room for up to five passengers. Both automatic transmissions and air conditioning are standard in every vehicle. 
Seychelles boasts an abundance of stunning landscapes, especially when you're enjoying your vacation at the Paradise Sun Hotel. To ensure that we provide you with the finest car rental service for an enjoyable holiday, we operate locally, offering reliable vehicle rentals. At Kreol Cars, our fleet of vehicles allows you to explore the Seychelles islands at your convenience. We prioritize your needs and are dedicated to delivering exceptional experiences, irrespective of your budget.