Paradise Sun Hotel Car Rental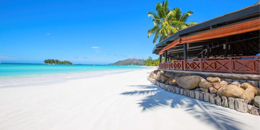 As you find yourself enveloped in the serene ambiance of Paradise Sun Hotel, a stunning beachfront retreat nestled along the unspoiled shores of Praslin in Seychelles, the allure of the island's natural and cultural wonders beckons. Surprisingly, to truly relish the coastal attractions, dedicating at least a day to exploring this magnificent island is highly recommended. Renting a car during your Seychelles visit can significantly simplify your journey, providing ease and convenience. When it comes to the awe-inspiring coastal vistas and the enchanting scenery along the shoreline, a personal vehicle offers the freedom to immerse yourself fully.
Beyond the serene seashore, Paradise Sun Hotel holds a deep appreciation for Praslin's captivating beauty. The island itself is a treasure trove of unexplored cultural gems and hidden wonders waiting to be uncovered. Kreol Car Rental empowers you to craft your own personalized Seychelles itinerary, whether you're planning a memorable family vacation, a romantic escape, or a solo adventure of exploration.
As you embark on your distinctive island journey, you'll have the freedom to uncover pristine beaches, traverse lush jungles, indulge in delectable Creole cuisine at local eateries, and soak in breathtaking vistas all at your own pace.
At Kreol Cars, our commitment to excellent customer service, impeccable cleanliness, and top-notch vehicle condition is unwavering. We pride ourselves on delivering outstanding service and ensuring continuous customer satisfaction. Don't miss the opportunity to unearth Praslin's hidden treasures.
To start on an excursion that compliments your Paradise Sun Hotel stay, reserve your rental with Kreol Car Rental today. Our team is committed to assisting you in transforming your Seychelles vacation dreams into reality. Our welcoming Kreol Services staff can seamlessly arrange for your vehicle to be delivered to the Paradise Sun Hotel as needed and coordinate the pickup of your rented vehicle once your adventure reaches its conclusion.