Anse Takamaka Beach, Mahe Seychelles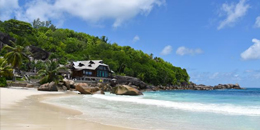 Situated on the wild South Coast, Anse Takamaka beach is on the South West Coast of Mahe. A quiet, beautiful and secluded beach, visitors can enjoy an unforgettable day of snorkeling and relaxation on clean white sand. Don't forget to book your reliable Mahe car rental to ensure easy and convenient trips to Takamaka's shores.
There is no urban development nearby, other than the single resort on the beach itself, providing a relatively quiet environment. For mouth-watering meals, The Takamaka Beach Restaurant offers a selection of drinks and local food to enjoy. Alternatively, feel free to pack a lunch and enjoy a beachside picnic. Just next to the resort, beachgoers can visit the collection of rare Aldabra Giant Tortoises. Endemic to Seychelles, these tortoises are one of the largest species of tortoise in the world, weighing an astounding 250kg!
Takamaka Beach has a tropical coral reef unlike any other in the world. Home to Spiny Dragonet, Silver Sweeper and the beautiful Tyro Sea Horse and more, snorkelling amongst these stunning creatures is sure to be a once in a lifetime experience. The waves can be incredibly tall depending on the season, so don't be afraid to ask the locals for the best time to hit the waves.
Anse Takamaka Beach is the ultimate escape for travellers wanting to avoid the hustle and bustle of busier beaches around Mahe Island. Kreol Car Services provides budget-friendly and reliable Seychelles car rentals to help you explore at your convenience. Whether hitting the beach or the hiking trails, our rental experts are proud to help visitors elevate their Seychelles adventure.
Contact Kreol Car Services today for more information on our Mahe car rental options.