Dedicated parking spaces at the Seychelles International Airport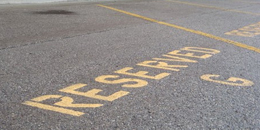 After all the preparation of planning your Seychelles getaway and anticipation of finally landing, the only thing on your mind should be the minutes between getting out of the airport and having a cocktail in hand. Thanks to Kreol Services' efficient and trustworthy Seychelles car rentals, the distance from tarmac to shore will be a quick and painless one.
Don't start your island getaway on the wrong foot by wasting time scouring the airport for a quick last minute car rental that will likely come with an unwanted high surcharge rate. Kreol Services offers easy and affordable Mahe car rentals with a range of vehicles sure to comfortably accommodate your party size, no matter how big or small. After pre-booking your vehicle with our team, your chosen car will be waiting for your arrival at one of our dedicated parking spaces at the airport. Treat yourself to the comfort and convenience of an effortless commute from the airport to your accommodation and beyond as you explore all that this island has to offer with a modern car and unlimited mileage – no surcharge fees!
To ensure smooth service from start to finish, our friendly team will guide you through the pre-booking process, meet you upon arrival with your name on a board, guide you to our office and take you through the car rental return process. For added convenience, your Mahe car rental can easily be returned to any location of your preference (specified beforehand), including back to our dedicated parking spaces at the airport.
For hassle-free and secure Seychelles car rentals, contact Kreol Services today. Our 24-hour customer support team is happy to answer all questions at any time.