Find the perfect rental car in Seychelles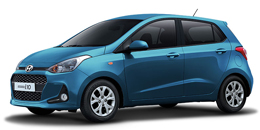 When it comes to exploring the beauty of Seychelles, let Kreol Services help you find the perfect rental car in Seychelles to give yourself the flexibility of travelling at your own pace, whether you lean towards non-stop adventure or laidback exploration. When you hire a car in Mahe or hire a car in Praslin, you are well-equipped to explore these stunning islands from top to bottom at whatever pace works for you.
Kreol Car Rental Services are well-equipped to help you find the perfect car rental in Seychelles ideally suited to your needs. Our stellar fleet of vehicles is supplied by only the top car rental companies in Seychelles, ensuring that any vehicle you select is expertly maintained and regularly checked. Whether you are travelling as a family, a large group of friends, a couple on retreat or enjoying a solo adventure, Kreol Car Rentals can provide the perfect vehicle regardless of your party size.
Committed to excellence, our experienced team will ensure a smooth process from start to finish. Our Praslin and Mahe car rental services are extensive and include full comprehensive insurance, a free additional driver, 24/7 customer service and free collection and delivery at your location of choice. If you're travelling with little ones, be sure to ask about our available baby and booster seats that we will be happy to install at no extra charge.
Whether you're interested in cruising unbelievably stunning beaches, exploring local culture or experiencing the wide selection of walking and hiking trails available, Kreol Services can get you there. Contact our team today and let us help give you the freedom you deserve.