Hire a Car in Mahé, Seychelles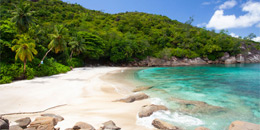 From beautiful, clear blue seas to picturesque white-sand beaches, the island of Mahe is the most beautiful holiday destination for tourists from all over the world. Mahe is the largest Island of the archipelagic country, Seychelles. It has fantastic, photo-ready scenery that makes it an exquisite destination for families, honeymooners, or couples.
Touring the Island of Mahe can be affordable and easy when you use a car hire. At Kreol Services, we provide high-quality vehicles will ensure that guests of the island have the best time possible. Renting a car in Mahe means that you can visit and site see around the island at leisure. It is an affordable option to enjoy all that this island has to offer. Kreol Services works with reputable car rental companies to give travellers the best service to make their holiday as convenient as possible. To makes things run smoothly, we drop off and collect vehicles at the client's desired location.
There is so much to do around Mahe. It is the largest and most popular Island of the Seychelles. It also hosts the capital city, Victoria. With bustling markets and relaxing beaches, the day will be filled with activity. Your Mahe Car Hire will ensure that you can explore the island and attractions the way that you want.
Kreol Services also offers car rentals in Praslin. Make sure you familiarise yourself with all the exciting things you can do in Seychelles and the most popular places to visit.