Hire a Car in Praslin, Seychelles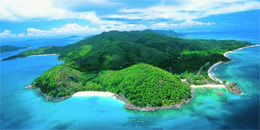 Hosting exquisite and timeless beaches is the island of Praslin. This island is located in Seychelles, the popular archipelagic country that welcomes tourists from all over the world.
This island is also home to the Vallee de Mai Nature Reserve and UNESCO World Heritage Site. It consists of a well-preserved palm forest made up of the island endemic coco de mer. You can conveniently access the site by hiring a car in Praslin.
The Vallee de Mai nature reserve has just reopened after three months of closure due to the Coronavirus. Visitors can once again enjoy this beautiful nature reserve for its wildlife following the safety procedures of social distancing and wearing a mask.
Using a car hire gives you the opportunity to enjoy your trip without the worry of taxi times or safety. At Kreol Services we provide quality vehicles that are reliable and affordable, making your family holiday stress-free and convenient. We also offer free drop off and collection of vehicles at the location of your choosing.
Exploring all the beaches of Praslin is the highlight of the island. Your car hire allows you to stop at the beaches you want in your own time. Hiring a car in Praslin is a must for any guest of Seychelles. Kreol Services also offer car rentals in Mahe.