Mission Lodge Lookout, Mahe Seychelles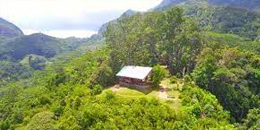 If you're looking for an unforgettable experience that doesn't involve Mahe's stunning beaches, look no further than the iconic Mission Lodge Lookout. This rare lookout point is drenched in rich history as well as being the highest point travellers can reach on Mahe by road. Don't forget to book your Mahe car rental to help you reach new heights with ease.
First and foremost, this is a hike. To ensure the comfort and safety of all visitors, it is important to bring your essentials. A few welcome additions to your trip would be water, sunscreen and comfortable shoes. Additionally, it is best to avoid visiting on a rainy day. Consequently, you may fall victim to the elements.
The hiking trail will take you through a lush forest, complete with cinnamon trees, fruit trees, rare tropical birds and even centuries-old ruins! Above all, charge your phone! You'll definitely want to snap a few one of a kind Instagram shots.
Seychelles' rich history goes back to the 18th century, which saw the European colonies bring slaves from around Africa. Missionaries later opened a school on Mission Lodge for the children of slaves far from settlements. The Liberated Slaves Cemetery Monument provides an incredibly humbling view further up the trail. Fun fact – Queen Elizabeth II took tea here in 1972.
From its lush vegetation to its historical significance and indescribable views, Mission Lodge Lookout will take your breath away. At Kreol Services, we take pride in giving our clients the ability to take their Seychelles vacation to new heights. No matter the adventure, Kreol Services will get you there in comfort. Contact us today to find out more about our top-rated Seychelles car rental services on offer.