Port Launay National Marine Park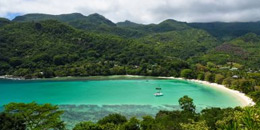 Seychelles, a destination known for its beaches and sandy shores, attracts tourists from around the world. Whether you are on a honeymoon or a family holiday, this island country offers the relaxation and comfort that anybody would appreciate. At Kreol Cars, we provide car hire services so that you can access all the important locations during your stay.
Port Launay National Marine Park is located on the west coast of Mahe island. One of Seychelle's most picturesque seascapes, this park encloses eight beautiful beaches, as well as the five star Ephelia Hotel. It's the ideal location to relax on a lazy day and enjoy the serenity of clear blue water and exquisite sandy beaches. You can access the park with your rental car; it is a 30 minute drive from Victoria, the capital city of Seychelles.
The park is extremely popular due to its whale shark sightings. These gentle giants can be seen in the waters during feeding season. They can be admired for their breathtaking beauty and are a beloved attraction within the park. For those more active at heart, this park gives beaches that accommodate many water sports and activities such as kayaking, canoeing, sunset cruises, and snorkelling or scuba diving. Tourists and guests love the park for its exciting allure and breathtaking scenery typical of Seychelles. With your car rental, you can drive here from your hotel and enjoy an action packed day for the whole family.
Kreol Services offers quality vehicles for your stay at Seychelles to be as pleasurable and convenient as possible. Guests will have no problem getting to the park due to a nearby road. There is also ample parking space. From parking your rental car here, you will be guaranteed a day full of activity or complete relaxation depending on your taste.