Sainte Anne Marine National Park, Seychelles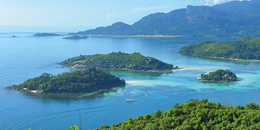 Today, Sainte Anne Marine National Park is known to be a prime spot for tourism. Located about 5km from the main island of Mahé alongside the Indian Ocean. This picture-perfect Marine Park compromises of 6 islands, just off of the coast of Mahe. Tourists often fancy scuba-diving, glass-bottom boat excursions and snorkelling amongst the coral reefs.
Sainte Anne Marine National Park is a colourful underwater appeal with various types of magnificent coral gardens, reef sharks and tropical fish. This marine park was created in 1973 but was not used as a marine park at the time but locals made use of the coral rock to build houses. Sea-turtles where eaten as a delicacy and fisherman made use of the abundance of fish in the shallow waters for their hauls, which in turn caused a threat of over-fishing.
Tourism became an essential factor in the economy of Seychelles, in turn this island was big on tourism and thus it became essential to ensure that a solution was found in order to protect the marine life on the island. The Marine Park Authority was the established in 1994, which monitors the conservation laws as well as divided the ocean into sections using buoys. Which, in fact, is the first of its kind in the Indian Ocean.
Tourists are more often than not fascinated by the massive fauna and flora, as well as the snorkelling conditions. If you are feeling lucky, you could also spot some incredible wildlife such as eagle rays, pipe fish, sea turtles and sometimes a bottlenose dolphin.
To explore this island to its full potential, ensure that you make use of Seychelles Car Rentals. Kreol Car Hire offer a wide range of rental cars, in order for you to get yourself around the island safely and in style. Kreol Car Hire offer bigger cars or even smaller hatch-backs, so that you are able to rent out a vehicle that would best suit your itinerary for the once in a lifetime experience in our beautiful island.