Savoy Hotel Car Rental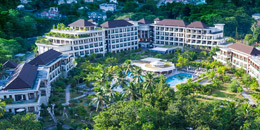 At Kreol Services, we are dedicated to you superior and hassle-free Car Rental in the Seychelles and put out great effort to satisfy all of your demands. We provide car rentals in Mahe and car rentals in Praslin, making it quite simple to explore and enjoy these well-known islands at your own pace. We will give you information on all the things to see and do on these beautiful islands that you can access with a vehicle rental from Mahe or a car rental from Praslin.
Resorts in the Seychelles are well-known for their idyllic locations and are well-liked by island visitors from all over the world. One of the most prestigious resorts in Mahe, Savoy Seychelles offers a variety of thoughtfully designed amenities to make sure that visitors have a comfortable and convenient stay. Additionally, our expertly educated staff is multilingual and can give you a warm welcome and individualized service. Kreol Services prides itself on reliability and convenience. Contact us today for more information on Savoy Hotel Car Rental options during your stay.
Outstanding client service, cleanliness, and vehicle condition are hallmarks of Kreol Services. Our exceptional service constantly leaves customers happy since we deliver and take up our cars on time.
Our Savoy Hotel Car Rental services in Mahe, Seychelles, are an excellent way to explore the island during your stay. Choose between smaller vehicles like the Kia Picanto and bigger ones like the Hyundai Creta, which has room for up to five passengers. Both automatic transmissions and air conditioning are standard in every vehicle. For added comfort, Kreol Services also offers a variety of large 4×4 jeeps with more storage room and a smoother ride, including the Kia Soul or Daihatsu Terios.
Our helpful Kreol Services staff can bring your car to the Savoy Hotel as needed as part of our hotel car rental service, and they can also pick up your leased car after you're done using it. At Kreol Services, we also provide unlimited mileage, round-the-clock roadside support, and comprehensive insurance for all of our vehicles. Regardless of the season, your vacation in the Seychelles gives a lot to enjoy and plenty of opportunities to create lasting memories.