Takamaka Distillery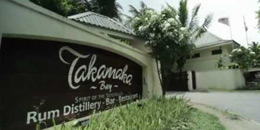 A trip to Seychelles is not complete without visiting Takamaka Distillery, which can be found along the gorgeous coastline of Mahé Island. This is Seychelles only commercial rum producer and exporter, which was founded by two brothers of the d'Offay family and has been operating since 2002. Experience the Trois Frères Distillery for an unforgettable outing, located on a stunning estate that was once a tropical spice plantation site.
The Takamaka Rum Distillery Tour and Garden Tour are very insightful and form part of the most popular attractions of the Seychelles, bringing more and more visitors to the exceptional island of Mahé. Make your toast to the Seychelles by enjoying these local spice-infused rums at the distilleries La Plaine St. André restaurant & bar, and even enjoy a guided rum-tasting. The restaurant itself is a lovingly restored original wooden Seychellois house built in 1792, serving delicious food inspired by Creole, as well as mouth-watering Takamaka Rum Cocktails. The Takamaka Distillery grounds include a boutique store, a forest walkway, a plantation bell and a sugar cane crusher. If you are planning your Seychelles vacation, book a Car Rental in Mahé through Kreol Cars and choose from a fleet of reliable and quality cars.
Mahé Island's Takamaka Distillery ensures that everyone visiting gets to enjoy a taste of the Seychelles. The tours take place from Monday to Friday at 11:30 am and again at 1:30 pm, showing how this spectacular rum is made and sharing interesting facts about the grounds, the plantation house and its fascinating history.