Top 10 Restaurants in Seychelles
The Seychelles is a tropical paradise that is located East of Africa in the Indian ocean. Composing of immaculate azure waters, thick jungles and rich marine life – there is honestly no better way to spend your holiday, other than this exquisite paradise. There are loads of natural attractions to explore, activities to part-take in and of course incredible restaurants to truly experience the island for what it has to offer. Amongst all the activities and beaches to keep you busy, you might be wondering what kind of restaurants would tickle your fancy when visiting the beautiful Seychelles. Rest assured – we've got you covered with the top 10 restaurants that you MUST indulge in when visiting the Seychelles.
1. Trader Vic's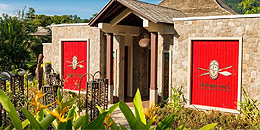 Located within the lavish STORY resort near the tail-end of Beau Vallon – Trader Vic's offers an experience spanning both Asian cuisine and Barbeque style dishes. A cocktail bar with an immense amount of options to choose from, live music and performances indoors and a beautiful outdoor veranda all congregate to make this such a memorable experience. The restaurant is rather exclusive – being closed on Mondays and being open from Tuesday-Sunday from 6-11pm. Reservations are the only way to guarantee a seat at this unique little restaurant – so do not hesitate to give their friendly manager a call.
2. Adam & Eve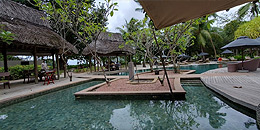 Adam & Eve is an Asian cuisine, located on the Constance Ephelia resort, south of Mahé. They Offer a range of meat and vegan options alongside an amazing atmosphere and very attentive service. Adam & Eve is an interactive and fun restaurant that focuses on South East Asian street food – where you are able to experience all of these detectable flavours. This restaurant is all about family, providing a lively environment and beautiful atmosphere.
3. Pink Salt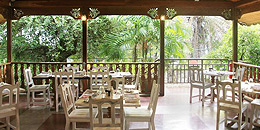 Located on the edge of Victoria, and offers a lush garden setting. This charming café serves a refreshingly simple menu of gourmet sandwiches, wraps and salads as well as a little menu for the kiddies. Pink Salt is set in a lovely old wooden-house, supported with friendly waitrons, further enhancing the serene atmosphere of this hidden gem.
4.La Scala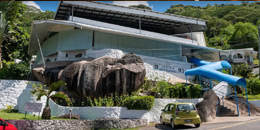 Renowned for being one of the Seychelles oldest and most beautiful restaurants La Scala is situated on the Bel Ombre beach. La Scala offers a sophisticated Italian cuisine. The atmosphere is an intimate and peaceful setting, put together by lavish decor and warmth from the restaurant owner. La Scala offers an exceptional view of the ocean while dining and take immense pride in the great customer service and freshly prepared food.
5. ZEZ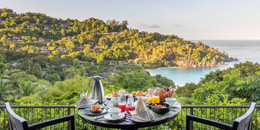 Located on the Four Seasons resort on the Petite Anse Mahe island. ZEZ offers a very elegant atmosphere. Nestled on the top of the hillside, ZEZ overlooks the beautiful ocean. ZEZ is the perfect spot to start your day – providing a hearty breakfast at an incredible price.  The evening selection boasts an exquisite menu of Asian cuisine. You can also make the most of this Oceanside location and enjoy a selection of premium seafood. Every Sunday is a special occasion at ZEZ, providing customers with a local catch of the day, prepared with fresh ingredients.
6. Maria's Rock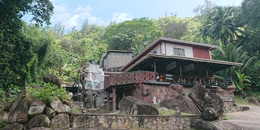 Located on the south of Mahé in Baie Lazare, this culinary gem offers a great selection of Creole and Cajun food as well as excellent customer service. Maria's Rock is tucked away in the jungle and provides its guests with a rustic and tribal atmosphere. You will feel like family and dine like a local, Maria's Rock indulge in a do-it-yourself menu where you have an opportunity to cook your own food on hot plates and enjoy a local cuisine with added flare. The kiddies will also be pleased to know that there is a pirate ship to play on – as well as a tree house.
7. Del Place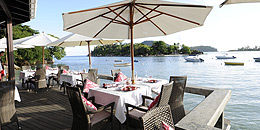 On the northern end of Mahé, Del Place overlooks the beautiful Port Glaud. Guests can enjoy delicious food with an incredible overview of the surrounding environment. Enjoy Creole and international cuisine, while the sun sets behind the island leaving you in awe. Del Place is an ideal restaurant to visit for a romantic setting and an evening of excellent customer service and great food.
8. Les Dauphines Heureux Café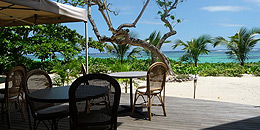 Enjoy sitting on the beachfront facing the beautiful Anse Royal. Les Dauphines Heurex Café offers a casual yet elegant atmosphere. This café serves Creole and international cuisine, as well as a Sunday buffet popular with the locals. The cocktails are delicious and they offer an exceptional wine list – more than likely to excite any aspiring sommelier. Les Dauphines Heureux Café is ideal for a romantic night out with your significant other!
9.Chez Jules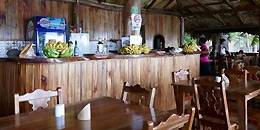 This beachfront bar offers an exceptionally relaxed atmosphere in La Digue – which also happens to serve some of the finest meals on the island. Chez Jules mainly focuses on Creole cuisine and is mostly well-known for their fresh juices. Located opposite the Anse Banane beach with views of a few islands such as Felicite, little sister, big sister and Marianne – feel free to enjoy a glass of wine while overlooking the incredible scenery.
10. Baobab Pizzeria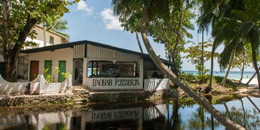 Located in the centre of Beau Vallon Bay in Mahé, boasts an Italian menu and world-class pizza. It is an ideal spot to stop for a tasty meal and a few drinks, especially after a swim in the sea – merely a few steps away. Baobab Pizzeria offers a relaxed atmosphere, with windowless walls and rustic interiors; this beach restaurant allows your toes to graze the sand while you enjoy a hearty meal.
These select restaurants are but a taste of what to expect when visiting this tropical paradise. If you are planning on visiting the Seychelles and stumbled upon this blog for a bit of insight – you're in luck!
These restaurants are diverse, with each offering a unique way to experience Seychelles renowned culinary culture.
Kreol Cars strives to provide its clients with an outstanding rental car service. With plans that can meet almost any budget tier – your ideal car will be waiting for you. If you have any further questions pertaining to our services – contact us today!
Share This Post