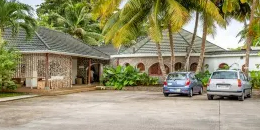 Spending time in paradise is something most dreams are made of. Basking in the warm sun, hiking through green tropical forests and cooling off in the perfectly temperate seawater sounds better than sitting indoors while the biting winter restricts our to-do lists. What if you were to touch down on the island of Mahe or Praslin, pick up a stunning, reliable vehicle at one of many locations, and be free to explore the island to your heart's content? By booking your trip to Seychelles, Kreol Services is sure to handle the rest.
Kreol Car Services offers a flexible and affordable car rental solution to vacationers visiting Seychelles. Upon picking up your chosen vehicle and filling out any relevant information, you will need to agree upon a suitable drop off point.
On Mahe, we offer free delivery to the airport a, the ferry terminal or any public space. This applies to rentals of three days or longer, where shorter rentals will be issued with a surcharge fee. On Praslin, we offer maximum convenience. Free delivery is granted to a client, no matter where they are on the island. Be it at the airport, the ferry terminal, your accommodation space or in a public setting – we are able to assist you at no extra charge.
If you are staying at one of Seychelles renowned resorts, hotels or airbnb accommodation solutions, things work a bit differently.  Once you have arrived at your accommodation, on the day of the commencement of renting the vehicle, you will need to provide us with your room number.
Our collection and drop off service is ideal for those wanting to leave their cars and not have to worry. Designated parking spaces at the airport are shown to you, where the entire procedure will be explained to you upon the day of receiving your rental car. If there are any details you may need ironing out, our 24/hr support team are always able to answer your queries – info@kreolcars-seychelles.com.