Anse Volbert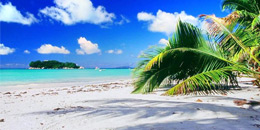 Seychelles is known for its picturesque beaches that look as if they come out of a magazine. Tourists from across the world flock to this magnificent island country to indulge in the wonderful water and sunbathe on clean white sand. Any holiday in Seychelles would be incomplete without spending a day at the beach. Hiring a car in Mahe or Hiring a car in Praslin allows you to explore these stunning islands and hop from one beach to the next.
Anse Volbert, also known as Cote d'Or, is one of the most popular beaches on the island of Praslin. This long, arching beach attracts guests for various reasons. It is one of the only beaches that caters for families and couples alike. The shallow waters are safe for children to play in. Honeymooners can stroll or sunbathe on the sand or in the shade of luscious palm trees. The beach is easy to get to by car, bus, or boat. You don't have to worry about your rental car as there is ample parking space available. Kreol Services provides quality, reliable vehicles to suit your needs and family size.
Besides swimming or snorkelling in the shallow waters, there are plenty of exciting activities to take part in on the beach. Guests can enjoy surfing, windsurfing, scuba diving, fishing, or sailing. There are also many excursions and cruises to choose from. The beautiful beach of Anse Volbert promises to give you many memories whether you feel like relaxing or being active. With an incredible variety of different attractions and stunning scenery, there are a many reasons as to why Anse Volbert would be a magnet for any Seychelles holidaymaker.