Beau-Vallon Beach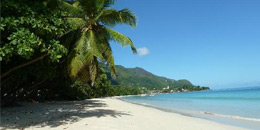 Seychelles' lengthy and breathtaking Beau-Vallon Beach is easily a top attraction within this world-class destination, among both tourists and locals. This alluring beach can be discovered on Mahé Island, which is the largest island of Seychelles and home to Victoria, the nation's capital. It is exciting to discover and appreciate this beautiful island and take in the various attractions it has to offer with a car rental in Mahé through Kreol Cars.
Ideal for leisure lovers or adventure seekers, Beau-Vallon Beach is a picturesque setting of sandy white shores and turquoise Indian Ocean waters that will immediately transport your senses to a place of pure bliss. As one of the longest beaches in Seychelles with plenty of shady areas and a range of activities and facilities, you could spend an entire day here, taking in the famous sunset views that locals say are something out of this world. There are a selection of bars and eateries near the beach, while adventures to enjoy here include kitesurfing, windsurfing, jet skiing, fishing and of course snorkelling, which reveals an underwater utopia of marine life, coral reefs and meadows of seagrass.
At Kreol Cars, we offer a reliable Mahé Car Rental service, allowing visitors to Seychelles the chance to appreciate their vacation to the fullest, without rushing or spending large amounts on taxis. Experience the splendid Beau-Vallon Beach with your family, dine along the coast with a sunset display before you, and then drive back to your accommodation safely and at your own pace.