Bliss Hotel Car Hire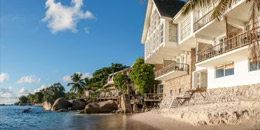 Any traveller should visit the Seychelles because it is a beautiful location. This nation is jam-packed with all the excitement for an exclusive and opulent vacation, from the most beautiful islands to the most stunning beaches. Kreol Services provides Seychelles Car Hire to make your vacation as convenient as possible. It is more cost-effective to hire a car in Seychelles than to continuously use taxi or bus services and it allows you to explore the islands at your own pace.
At Kreol Services, we go above and beyond to give guests a practical, time-saving Seychelles car hire option. We offer our customers a wide variety of pick-up and drop-off places in both Mahé and Praslin, and we can bring your car to the airport, hotel, or jetty of your choice. For Bliss Hotel Car Hire, Kreol Services is the way to go!
Spacious accommodations with views of the Indian Ocean or tropical gardens are available at Bliss Hotel. It has a spa with a variety of services. On the secluded beach, snorkeling is permitted. The Bliss' guest rooms blend modern and Creole design with a hint of romanticism and exotic sensuality. Rooms at Seaside include terraces with views of the Bay and are arranged along the white, sandy beach. Tropical foliage envelops the rooms in the Secret Garden. Visitors may unwind on the sundeck or indulge in a massage at Pure-BLISS SPA. There is WiFi in the lobby, on the sundeck at the beach, and beside the pool. Contact Kreol Services today regarding car hire services to Bliss Hotel during your next visit to Seychelles. 
The Seychelles provide a wealth of beautiful scenery to be enjoyed. We operate locally and collaborate with trustworthy car hire businesses to guarantee that we provide you with the best service so you can enjoy your vacation. You may explore the Seychelles islands at your own leisure with our fleet of vehicles. Your requirements are our top priority at Seychelles Car Hire, and we're dedicated to giving you the best experiences possible regardless of your price range.