Car Hire Seychelles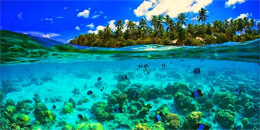 At Kreol Services, we keep the car hire process uncomplicated and allow you to discover the Seychelles like you always dreamt you would. For some, the process of hiring a car in Seychelles can seem daunting, however many first-time travellers appreciate our efforts to main excellent service delivery and consistently exceed expectations. Whether you're delighting in the beauty of Mahé Island or discovering the best attractions of Praslin Island, renting a car for your vacation allows for fun experiences without time constraints.
There are many hidden corners and exceptional settings you will have the opportunity to truly appreciate when hiring a car in Seychelles, which you could easily miss when rushing to catch a cab. A rental vehicle also works out less expensive than local taxis, while allowing you to plan your vacation with more flexibility and less stress. We will meet you at your chosen location to deliver and pick up your Seychelles car hire, and are at your service 24/7 should you require assistance. The cars on our fleet are varied, to suit the needs of broad range of clients and visitors enjoying their Seychelles stay. When hiring a car in Seychelles, it is important to consider your requirements – all our vehicles allow for a free second driver and are well maintained.
Experience the best of this gorgeous world-class destination by hiring a car in Seychelles. Our Kreol Services team are locally based and work with reputable sub-contractors, knowing how important is it that your car hire journey in Mahé or Praslin goes smoothly. Whether you are on a romantic retreat, family holiday or trip with friends, hiring a car in Seychelles has never been simpler.