Car Rentals Mahé, Seychelles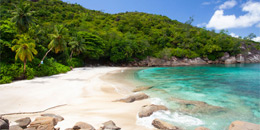 A trip to the Seychelles, a stunning archipelagic island country surrounded by azure blue Indian Ocean waters, is inviting to couples, friends or adventure seekers alike. Planning your vacation to this exceptional destination is exciting, and sorting out your accommodation and car hire beforehand gives you more time to enjoy your vacation once you arrive. Our Kreol Services team are committed to providing Car Rentals Mahé solutions that will add convenience to your stay.
Our Car Rentals Mahé service allows tourists to experience Seychelles in their own way and according to their schedule, with time to explore attractions like Beau-Vallon Beach and the inviting Eden Island of Mahé. The cost of renting a car in Seychelles is affordable compared to travelling by taxi, while the cars that are on our fleet range from small family cars to larger vehicles seating up to 7 people. Each of our Car Rentals in Mahé include a free second driver and have full comprehensive insurance, and we ensure that our clients are aware of the Road Rule and Speed Limits in Seychelles, which need to be adhered to at all times. Make every moment of your time spent in Seychelles count, by discovering the outstanding beauty of this destination on a memorable vacation.
For reputable Car Rentals Mahé solutions that will perfectly suit the needs of modern travellers, Kreol Cars works with the best can rental companies and has attained valuable insight from our many years in the car rental business. From making your reservation online to having your car delivered and picked up at your chosen location, we provide a professional service you can count on.