Car Hire Mahé, Seychelles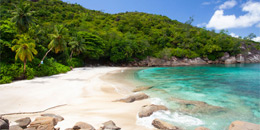 Are you visiting the Seychelles Islands? What better way to explore the main island while on vacation than by hiring a car in Mahé, which allows you to discover the many hidden gems of this breathtaking setting. As the largest island of the Seychelles Archipelago which is also home to Victoria, the country's capital, hiring a car in Mahé is absolutely necessary, as it allows you to start exploring from your arrival at Mahé Airport.
At Kreol Services, we offer free delivery and collection of your car rental anywhere on Mahé Island, which includes the Mahé Ferry Terminal, your chosen Hotel or Guest House and the International and Domestic Airport. Skip the extra cost and added stress of booking a taxi for each outing or discovery while on holiday, by hiring a car in Mahé that is reliable and suited to your needs as a tourist. We also offer car rental in Praslin and car rental in Seychelles, making your adventures all the more fun and giving you the flexibility and freedom to do what you want. Hiring a car in Mahé saves you from opening your wallet for a taxi, which works out to a lot more money which you could otherwise be spending on making lasting and beautiful memories.
Allow your car rental in Mahé to guide you through the Garden of Eden and the stunning valleys and coastal stretches of this outstanding island destination. There is so much to see and do during your stay, from excursions to cultural and historical landmarks to a myriad of exceptional beaches and the incredible Seychelles National Botanical Gardens. Hiring a Car in Mahé gives you the opportunity to enjoy your vacation at your own pace, with nothing but time on your hands.