Car Rental Seychelles International Airport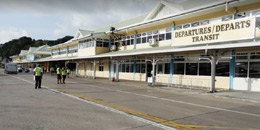 Seychelles International Airport, also known as Aeroport de la Pointe Larue, is located in Mahe. The airport is 11 kilometres southeast of the capital, Victoria, and accessible with your Car Rental from the highway. Kreol Services is a reputable Car Rental Company that provides reliable and efficient vehicles to our clients from all over. We work with trusted companies to provide you with excellent service and quality vehicles.
Our Car Rental Services will deliver your rental vehicle to the airport, jetty, or hotel of your choosing. Arriving in this magnificent Seychelles Internal Airport puts you in moments reach of your Car Rental to enjoy your wonderful holiday in the Seychelles. With Kreol Services, you can enjoy a fantastic and beautiful trip with our excellent fleet of vehicles. At Kreol Services, we are committed to provide high quality and seamless Car Rental in Seychelles and work tirelessly to meet all your needs. We will provide you on information on all things to do on all the exquisite islands in the country. Our Car Rentals all include third party insurance, a free second driver, and unlimited mileage for you to enjoy your stay without any worry or stress when it comes to your transport.
There is so much beauty and fun to be had in the Seychelles. We offer Car Rental in Mahe and Car Rental in Praslin, making these popular islands exceptionally easy to explore and enjoy on your own terms, without the hassle of consistently relying on taxis or other forms of public transport. Seychelles Car Rental puts your needs first, and at Kreol Services, we are committed in providing you with quality experience to enjoy on any budget.