Coco De Mer and Black Parrot Hotel Car Hire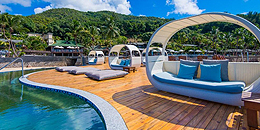 At Kreol Services, our commitment is to offer you a premium and hassle-free car hire experience in the Seychelles, and we spare no effort to meet all your needs. With car hire services available in Mahe and Praslin, we make it incredibly convenient for you to explore and enjoy the charms of these renowned islands at your own leisure. Furthermore, we're delighted to provide you with insights into the myriad attractions and activities accessible with a vehicle rental from Mahe or a car hire from Praslin on these beautiful islands.
Seychelles resorts are well-known for their scenic locations and are popular with visitors from all over the world. The Coco de Mer Black Parrot Hotel in Seychelles, one of the most prestigious resorts on Praslin, offers a variety of expertly created amenities to ensure guests have a comfortable and flawless stay. Furthermore, our highly educated personnel speak many languages, assuring a warm welcome and individualized service. Kreol Services takes pride in our dedication to dependability and convenience. Please contact us today for more information on car hire alternatives at Coco de Mer Black Parrot Hotel during your visit.
Opting for our Coco de Mer Black Parrot Hotel car hire services in Praslin, Seychelles, is a fantastic way to discover the island during your visit. You have the flexibility to select from a range of vehicle sizes, accommodating both smaller groups and larger parties. Additionally, all our vehicles come equipped with standard features like automatic transmissions and air conditioning for your comfort and convenience.
Our attentive Kreol Services team is at your service, ready to deliver your car to the Coco de Mer Black Parrot Hotel whenever you require it, as part of our hotel car hire service. We can also arrange for the convenient collection of your hired vehicle when you've finished using it. Moreover, we extend the courtesy of offering unlimited mileage, round-the-clock roadside assistance, and comprehensive insurance coverage for all our vehicles. No matter the time of year, your Seychelles vacation promises abundant delights and numerous chances to craft enduring memories.