Fond Ferdinand National Park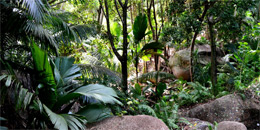 Praslin Island attracts visitors to the Seychelles for its outstanding natural beauty, which includes the Fond Ferdinand Nature Reserve and National Park. In addition to being present at Vallee De Mai, the only other location where the renowned Coco de Mer coconut trees grow is the Fond Ferdinand reserve. Often referred to as the sea coconut, many interesting legends surround this rare species of the palm tree that is native to Seychelles.
Fond Ferdinand National Park is a captivating forest that is so much fun to explore, with an array of unique trees that tower overhead, loud birds singing and chirping and sightings of friendly chameleons and lizards. Most of the forest is very shady, making it a pleasant outing for all to enjoy. Entertaining and informative tours can be booked for guided discoveries and local insight, while an enjoyable and not too strenuous hike leads to rewarding results from above the forest canopy, where views of La Digue and Praslin are on full display. It is here that you can take a few moments to truly appreciate the vast beauty of Praslin and the many natural elements which combine to form the Fond Ferdinand National Park in Praslin.
Discover more of Praslin with a Seychelles car rental booked through Kreol Services. The process to rent a car is simple and driving in Seychelles is a memorable experience in itself, with so many outstanding sites to be admired. All the vehicles forming part of our fleet are quality guaranteed, with extras including full comprehensive insurance and the option for a free additional driver.