Morne Blanc, Mahe Seychelles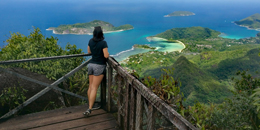 The island of Seychelles provides some incredibly unique geography. The inland mountains boldly contrast the tropical coastline, providing a one-of-a-kind environment to exceed your tropical island fantasies. Not only is this stunning archipelago a treat for the eyes, but it is also a year-round playground for the adventurous at heart. Kick your Seychelles vacation off on the right foot with the most renowned hiking trail on the island – Morne Blanc. Don't forget to book your Mahe car rental to help you explore with ease and convenience.
With a climb of about 228m and a total distance of 2.1km, hikers can expect a steep forested trail and should dress accordingly. Situated on Mahe (Seychelles largest island), the iconic Morne Blanc hiking trail provides unmatched views overlooking the western side of the island. With the full beauty of this island paradise on perfect display below, you'll want to make sure you get plenty of pics.
Morne Blanc is one of the most iconic mountains on Mahe. It is renowned for the eerie fog that surrounds the mountain and creeps along the slopes. The mountain has a dense green forest that increases the higher you trek, providing a moderately challenging trek uphill. Boasting a primal untouched beauty that cannot be matched anywhere else on the island, this particular hike is a firm favourite among tourists.
At Kreol services, we provide our clients with reliable, budget-friendly vehicles to get them to their destinations in both safety and style. No matter where you find yourself on the island, rest assured that our vehicles will always bring you safety and convenience. If you are on the market for a reliable Mahe car rental, please contact our team for more information.