While the Seychelles will undoubtedly work its magic on you from the moment you arrive, booking the ideal accommodation for your stay will ensure you're stay is truly unforgettable. There are so many first class resorts and hotels in the Seychelles to choose from, to complete your vacation stay. We've put together a list of the Most Popular Resorts in Seychelles to give you a glimpse of your perfect stay on this tropical island paradise.
Mahé Island Resorts
Four Seasons Resort Seychelles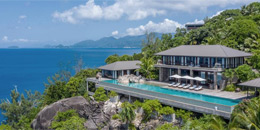 This sensational 5 star resort boasts breathtaking views of the bright blue Indian Ocean Waters and offers stunning accommodation. Spend time at Petite Anse Bay, be pampered at the exclusive Hilltop Spa and dine on a quiet beach as the sun sets. Amenities include an outdoor pool, water sports pavilion, kids programme, yoga classes and a jogging trail.
Constance Ephelia Resort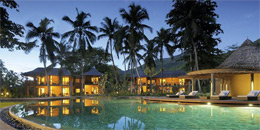 A natural paradise that is a highlight when exploring Praslin Island, Beautifully located on two beaches with views of Port Launay's marine national park across the Indian Ocean, the Constance Ephelia Resort is a firm favourite with tourists. From private beach villas to opulent tropical garden view rooms and an inviting spa village for all your wellness and beauty treatments, you're dream stay awaits.
Avani Seychelles Barbarons Resort & Spa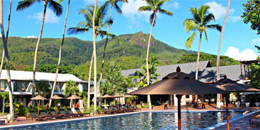 A truly romantic seaside retreat close to the Seychelles National Botanical Gardens, this resort and spa perfectly reflects the beauty of Seychelles. During their stay, guests can enjoy stylish rooms and the option of dining along the coast, which is the perfect end to a day of holiday adventures in one of the most popular resorts in Seychelles.
Other popular resorts in Seychelles on Mahe Island include Banyan Tree and the Beachcomber Sainte Anne Resort and Spa. Expect exceptional views, fine dining experiences and soul enriching moments.Enquire with Kreol Services about our reputable Mahé Car Rentals.
Praslin Island Resorts
Constance Lemuria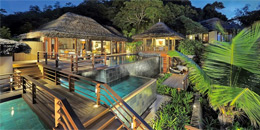 Elegant and spacious suites and villas welcome guests at the 5 star Constance Lemuria Resort. This beachfront resort has its own 18-hole championship golf course, while a striking balance between nature and luxury is achieved in the design of the resort. Guests can enjoy a VIP Lounge, exquisite dining and helicopter transfers on request.
Le Château de Feuilles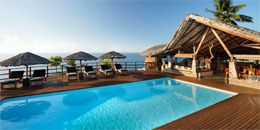 This 5 star boutique hotel is surrounded by clear ocean waters and swaying palm trees, renowned for its hospitality and a definitely one of the most popular resorts in Seychelles. Ocean facing rooms and a private island and beach add to the appeal of accommodation here, while facilities include a large organic pool, spa, helipad and a fine dining restaurant specializing in gastronomical fusions.
Raffles Seychelles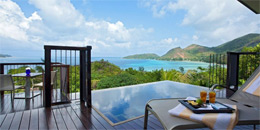 Experience an incredible luxury stay in a private pool villa surrounded by the natural splendour that is synonymous with the Seychelles. Located along Ansa Takamaka beach, this opulent resort in one in a million. An onsite spa offers guests the chance to unwind and reconnect, while a range of spectacular villas display jaw dropping views and are very modern and chic.
Purelife.travel also listed their Top 3 Spa Resorts in Seychelles. So be sure to explore the Wellness Travel Tour guide.
For stunning four star accommodation options, consider Praslin's inviting Coco de Mer Hotel and Black Parrot Suites or Residence Praslinoise. Enquire with Kreol Services about our Praslin Car Rentals.
Share This Post