Moyenne Island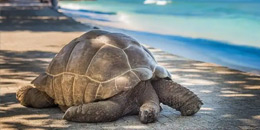 Moyenne Island is a small island off the north coast of Mahe, Seychelles. This tiny island has become an incredible tortoise nature preserve and is the world's smallest national park. To access the island by boat, you can invest in one of the many day cruise trips available where you will have the opportunity to feed and swim with fish. Your car rental can transport you to and from the Mahe harbour. At Kreol Services, we drop off and collect vehicles at the hotel, airport, or jetty of your choice.
This island is special because it has so much nature to appreciate, but it also has an incredible history. Brendon Grimshaw, a journalist, bought the island in 1962 and completely transformed it into something habitable. He was the only person to live on the island to watch over this endangered beauty.
The island is home to 120 giant tortoises and has 16000 plants and trees that attract a host of native birds that flock from neighboring islands. The tortoises roam freely across the island, and the nature paths that wind in and out of the plant life will allow you to see and interact with them.
Grimshaw was offered $50 million for the island a few years before his death. He refused to sell, saying that the island was not meant to be a holiday destination but a national park for everyone to appreciate and respect. This exquisite island allows you to immerse yourself in nature. It was carefully crafted to become a unique national park home to various species of plants.
Using your car rental to access the harbour is an easy way to make sure you get there on time and not worry about transportation issues. You can also acquaint yourself with all the Do's and Don'ts of the country so that you can be an informed tourist when visiting islands such as Moyenne.