Rent a car Seychelles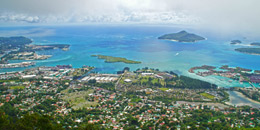 When looking for a once in a lifetime holiday experience, Seychelles should be your number one destination. A dreamlike coastal paradise that consists of 115 tropical islands, Seychelles suffers no shortage of sites to see and rent a car Seychelles will get you there. Through Kreol Cars, you can explore the known wonders and hidden gems that make up this paradise at your own speed. With a variety of options to fulfil your every driving need, renting a car in Seychelles is exactly what you need to take your vacation to the next level.
Whether you're visiting Seychelles for a romantic trip for two, having fun with the whole family or taking an adventure trip with friends, Seychelles has a variety of attractions to keep you busy. From stunning beaches and water sports to delicious restaurants or taking in the local art scene, you will always be on the move and rent a car Seychelles will happily deliver or collect your car wherever you are at your convenience. We also specialize in rent a car Mahé and rent a car Praslin for those looking to explore every inch of Seychelles.
Kreol Cars have a reputation for being a trustworthy and reputable Car Rental Broker by ensuring that every car in their fleet meets the high standards of quality and safety that they are known for amongst locals and international visitors. This is accomplished by only working with car rental services that have been tried, vetted and proven to put their customers' needs first. Rent a car Seychelles offers a wide range of car makes and models to choose from that is properly maintained and serviced regularly to ensure that you never have to worry because your safety and comfort is our number one priority.