Reputable car rental companies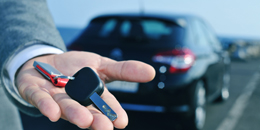 At Kreol Services, we understand the anxiety and stress that comes with renting a car in a foreign destination, particularly from a car rental broker you've never used before, which is why we offer secure and trusted Seychelles car rental services. With a reputation for only working with the most reputable car rental companies in Seychelles, you can rest easy knowing that you and your loved ones will be in the best hands with Kreol Services.
With so much to explore on this stunning archipelago, using Mahe car rental or Praslin car rental services is truly the easiest and most convenient way to explore this paradise. From Mahe's turquoise shores to Praslin's "Garden of Eden", Kreol Services will help you explore at your leisure. With a wide range of car makes and models, our affordable fleet of rental vehicles can easily accommodate you, whether travelling as a large group, a small one, a couple or journeying solo. An added benefit of only partnering with the most reputable car rental companies is that every vehicle is regularly checked and expertly maintained from top to bottom to ensure safe travelling for every client.
To ensure your Seychelles car hire is as easy as possible, we offer full comprehensive insurance, a favourable Mahe and Praslin refueling policy, accept a valid drivers licence from any country, and help you easily extend your car rental. No hidden fees or clauses – just transparent and trusted customer-focused service. At Kreol Services, we believe in bookings made easy and will always go the extra mile to ensure smooth and efficient service for you.
If you would like more information on how we can help you effortlessly upgrade your Seychelles adventure with trusted car rental services, please contact us today.