Savoy Hotel Car Hire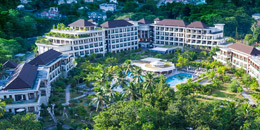 You need a personal car to fully enjoy all of Seychelles' attractions, with the far southern regions of this magnificent island especially worth spending at least a day exploring. If you rent a car while visiting Seychelles, your trip will be much simpler. When it comes to the spectacular scenery along the north coast or the lovely bays in the west, you have to see it to believe it. 
Resorts in the Seychelles are popular with island visitors from all over the world and are renowned for their picturesque settings. Savoy Seychelles, one of Mahe's most famous resorts, provides a range of deliberately created amenities to ensure that guests have a comfortable and convenient stay. Additionally, our bilingual, highly educated personnel can provide you with a friendly greeting and specialized assistance. Kreol Services takes pride in its dependability and accessibility. For additional details about Savoy Hotel car hire choices during your visit, contact us right now.
Our extensive fleet of premium, economy, and small vehicles for rental in Mahe contains the models that will work best for you based on your travel objectives. For shorter trips, you might choose from smaller cars like the Kia Picanto. Otherwise, if you need more space or are planning a longer trip, we have larger family vehicles like the Kia Soul or Daihatsu Terios.
The Seychelles offer an abundance of breathtaking landscapes, especially while vacationing at the Savoy Hotel. To ensure that we give you the greatest Savoy Hotel car hire service so you can enjoy your holiday, we operate locally and partner with reliable vehicle rental companies. With our fleet of automobiles, you can tour the Seychelles islands whenever you like. At Seychelles Car Hire, we put your needs first and are committed to providing you with the greatest experiences regardless of your budget.