In a little country with hundreds of existing alternatives fighting for your credit card information, a new hotel may appear unusual. Even more so when the hotel is part of a mammoth brand, such as Marriott, and does not adhere to the classic beach resort model, which includes a ring-fenced site, buffet dinners, and all-inclusive packages.
That is, after all, the objective of the Seychelles' newest hotel. There are advantages to travelling new, abroad, and independently, even while a single resort stay will satisfy many people's travel criteria and there are drawbacks to lodging in a hotel-style setting. This is particularly true on an island like Mahé, where a closer look at older resorts and hotels can uncover rooms held together with just bubblegum, paperclips, and mattress toppers – along with a lot of ingenuity from the maintenance team.
Instead, at the Lala Resort, 15 minutes from the Seychelles International Airport, new and global means brand-new modern amenities like wireless chargers, flat-screen smart TVs, cozy beds, and luxurious fixtures. The stylish, thoughtfully designed rooms are ideal for unwinding in after exploring the island. However, it is a hotel that is a part of a large chain. Although it belongs to a business that manages almost 8,500 properties worldwide, just 80 locations make up the Tribute Portfolio, a sub-brand that emphasizes the uniqueness and local culture of each destination.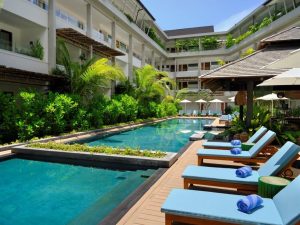 During a tour of the recently opened hotel, Christophe Zialor explains that the creole phrase "la la" means "Here it is." The concept is to create a space that feels connected to the island, its residents, and its culture rather than an elite walled resort. Some of this inclusivity can be attributed to the hotel's location on Mahé, where there was not enough space for a hotel with direct access between the main road and the beach. But in order to fulfil the Tribute Portfolio mission and give it a lot of personality, they made the most of the site.
The majority of amenities are accessible to visitors staying elsewhere as well as inhabitants living on the island. Additionally, there are outward-facing shops on the ground floor, including a hair salon, a delicatessen, and a boutique beach shop. This strategy is in stark contrast to many Seychelles resorts and hotels, which try to wall off the property and keep visitors trapped into the village-like ecosystem, complete with buffet nights that cycle through different international cuisines every night, frequently set to cover bands from the West. 
Lala acts very differently. It operates a beach cafe across the street that serves upscale yet approachable Seychellois fare in addition to an on-site a la carte restaurant that combines regional specialties with cosmopolitan flair.  There is a boat house across the street that provides beach towels and a variety of non-motorized water sports equipment for visitors who wish to get out on the water. The two-minute walk away beach has loungers for guests to use, while Anse Royale Beach, one of Mahé's most popular beaches, is five minutes away.
Lala will remain in its current location for a very long time and will continue to more than hold its own as an addition to any Seychelles itinerary given its convenient location close to the airport and other attractions on Mahé's east coast, the slick new rooms, and the individual charm that accompanies this otherwise polished global enterprise.
You may go to well-known tourist destinations like Mahe and Praslin with the help of Kreol Car Services' dependable and affordable Seychelles car rentals. We can help you with any of your needs. You can reach us by email, Whatsapp, or live chat if you need any extra information. Every taste and budget can be satisfied by our selection of rental cars, which also includes the assurance of top-notch service.
Share This Post