Car Hire Seychelles International Airport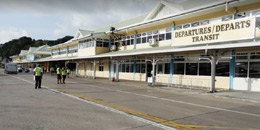 The Seychelles International Airport is easily accessible from the highway with your Car Hire. The beloved International Airport is most likely your first point of contact with the Seychelles. At Kreol Services, we deliver your car hire to the airport, jetty, or hotel of your choice. You can set off in your wonderful car hire straight from the Seychelles International Airport as soon as you land, letting you experience a magnificent and memorable holiday in the Seychelles. This picturesque destination is filled with exquisite beaches and sandy shores where all people will enjoy soaking up the sun.
Located in Mahe, the Seychelles International Airport brings you to an island full of excitement. Your car hire can take you to all the fantastic spots of the island that are on your bucket list in your holiday. We offer you a selection of fantastic and reliable vehicles for any family size. Our Car Hire options all come with a third-party insurance, a second driver, and unlimited mileage.
We are committed in providing high quality and seamless Car Hire in the Seychelles and work tirelessly to meet all of your needs. We offer Car Hire in Mahe and Car Hire in Praslin. These popular islands are the highlights of Seychelles and with so many activities to do, your car hire will be able to take you to all your site visits with ease and in your own time. We will provide you with information on all the things to do on these islands that your car hire in Seychelles can take you to see.
With Kreol Services, we are committed to make your Car Hire experience in Seychelles exceptional and offer varying vehicles for any budget or family.