Praslin Island Information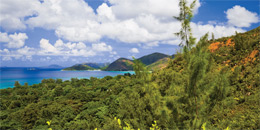 Praslin Island forms part of the exquisite Seychelles Archipelago and is the second largest of the inner islands, located almost 44 km's from Mahé Island in the Somalian Sea. A large portion of Praslin Island consists of the Praslin National Park, while the surrounding areas are considered vital birdlife areas that house endemic species including the Seychelles bulbul and black parrot. The islands tropical forests are home to the rare species of coco de mer.
Ideal for tourists seeking adventure and discovery during their stay, hiring a car in Praslin is an affordable and convenient way to travel from one attraction to the next. Some of the best places to visit include Praslin's naturally enchanting Vallee De Mai National Park and Fond Ferdinand National Park, while two of the most popular family-friendly beaches in Praslin are Anse Lazio Beach and Anse Georgette Beach. There are numerous luxury coastal resorts in Praslin that ensure guests are creating unforgettable holiday memories. At Kreol Services, we provide a Seychelles car rental service that includes a full fuel tank and free collection and delivery. If you're hiring a car in Praslin, you'll be driving on the left side of the road and need to keep your travel documentation and drivers licence close by, as you will need it if you are pulled over.
Praslin is not a very large island at 38.5 km2, meaning it is simple to navigate by car. Many of the locals speak English and are happy to help with directions, while our Kreol Services team are available to assist you at any time. Discovering the wonderful assets of Praslin will include many adventures, so make sure to pack your snorkelling, hiking and swimming gear along when embarking on an outing.