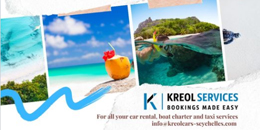 From the iconic hiking trails in the Morne Seychellois National Park to the picture-perfect shores of Praslin, Seychelles has long been the number one choice for holidaymakers interested in living out their tropical island fantasy vacation. At Kreol Services, we understand the desire to hit the ground running, which is why we offer secure and trusted Seychelles car rental services to help you explore at your leisure.
If you are interested in car rentals in Seychelles, we are situated locally, providing visitors to this idyllic island with modern and reliable rental vehicles to explore all that this paradise has to offer. Kreol Services offers Mahe car rental and Praslin car rental services for easy and convenient exploration of two of Seychelles' largest and most populated islands. At Kreol Services, we believe in excellence and will always go the extra mile to ensure that your car rental needs are met. Whether travelling as a large group, a small one or on your own, we can suggest a vehicle from our fleet to safely accommodate your party size.
While other car rental brokers operate from abroad, we are situated locally, which allows us to cultivate strong relationships with the top car rental companies in Seychelles, offering extensive and affordable services to clients. These services include full comprehensive insurance, free delivery and collection of your vehicle at your chosen location, a free additional driver and 24-hour customer service.
At Kreol Services, our expert team is committed to providing unmatched customer service. From offering a wide range of vehicle makes and models to choose from, unlimited mileage and secure payment options, we will make the process as smooth as possible. If you would like more information on how we can help elevate your Seychelles experience, please contact us via Whatsapp, email or our live chat option.