Hire a Car in Seychelles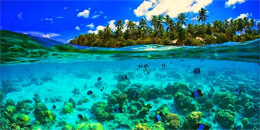 Seychelles… A romantic name for an exquisite destination. Seychelles is an archipelagic island country in the Indian Ocean at the Eastern end of the Somali Sea. You are able to Hire a Car in Praslin or Hire a Car in Mahe with Kreol Cars.
From sky-blue waters and lustrous white sand, these beaches and green landscapes make this country an escape from reality. Hiring a car in Seychelles is a convenient and easy step to your holiday with Kreol Services. We offer a variety of vehicles for any family to enjoy this island the way it should be – leisurely.
Our vehicles are of high quality and are affordable. You can look at the currency of Seychelles and how it compares to your country to budget accordingly. To be extra prepared for your exciting adventure, you can read up on the road rules for Seychelles and all the Do's and Dont's for the country.
You need reliable transport to visit all the attractions of this country. The islands of Mahe, Praslin, and la Digue are all picturesque locations to visit. With your car hire, you can explore these islands on your terms and have the peace of mind with an included third party insurance. At Kreol Services we deliver and collect your rental at your hotel, airport, or jetty of choice.
For a luxurious holiday, hire your car rental in Seychelles here.